THE RICHARD DURRANT ORCHESTRA
Richard Durrant has performed many times as a guest soloist with mainstream orchestras (including the Royal Philharmonic Orchestra with whom he appeared at the Royal Albert Hall), but his recent artistic adventures have all pointed in the same direction – the formation of a bespoke, specialised group of musicians to work on his unique music. The Richard Durrant Orchestra can now present a ground breaking, original and participatory orchestral work Six Grooves for Ukulele.
Six Grooves for Ukulele:
A ukulele concerto in six movements.  
Six Grooves for Ukulele (a concerto in six movements written and performed by Richard Durrant and his orchestra) elevates the ukulele to the pinnacle of contemporary concerto repertoire and is Durrant's most adventurous work to date. Retaining the familiar tongue in cheek personality of the ukulele whilst highlighting the social and musical power of the instrument, Six Grooves successfully bridges the gap between the professional and community musician whilst challenging preconceptions of what the ukulele is musically capable of.
The Richard Durrant Orchestra was formed in the spring and summer of 2017 and gave its debut performance of Six Grooves for Ukulele at The Ropetackle Arts Centre in Shoreham in September 2017. The occasion was a huge success musically and socially. Six Grooves successfully integrated the local ukulele musical community, who formed the "Antiphonal Ukes" for their performance alongside the RDO. The event demonstrated that the ukulele community can have a place within an orchestra.
For future performances ukulele groups from local schools, classes, U3A's, local pubs, or those who simply like to perform in our own living rooms are invited to attend a series of ukulele workshops, facilitated by Richard Durrant in preparation for a performance of this participatory orchestral work. Regardless of current abilities, these workshops will develop technical and musical capabilities on the ukulele.
The RDO, features, an 11-piece string ensemble and a range of unique and idiosyncratic instruments (the water phone, berimbau, vibraphone, marimba, piano and keyboards plus Durrant's own invention the percussive Bicyclatter) the full programme is guaranteed to delight music lovers of any genre.
The visual impact of Richard's orchestra is certainly memorable. The menagerie of exotic instruments with the "Bicyclatter" arched over the drum-kit centre stage is further enhanced by animated backdrops, beautiful still images and clever lighting design.
Six Grooves for Ukulele forms part of a full evening of music by Richard Durrant:
SIX GROOVES FOR UKULELE


For full orchestra, solo ukulele and antiphonal ukuleles (large group of community ukulele players)
CYCLING MUSIC


For guitar sequences, full orchestra and Bicyclatter (bicycle percussion). As featured in the BBC coverage of Le Tour 2014
Six Grooves for Ukulele - a Ukulele Concerto in six movements
You can reread the previous sentence as many times as you like. Rub your eyes, shake your head, ask a friend to look – those words really are there: Ukulele Concerto.
The person responsible is composer Richard Durrant (a.k.a the barefoot, guitar virtuoso), proving once again that rumours of his musical eccentricity are true. More than that, Six Grooves will change perceptions of the musical capabilities of this wonderful instrument. Backed by the seventeen-piece Richard Durrant Orchestra and including a large group of local community uke players, Six Grooves for Ukulele is melodically adventurous and rhythmically challenging, yet somehow the tongue in cheek personality of the uke still prevails.
Durrant's highly personalised orchestra comprises a string section, tuned & untuned percussion (marimba, vibes, berimbau, waterphone…), electric bass, piano & keyboards and Durrant's own invention the 'Bicyclatter' – a huge frame hung around a drum-kit and made from various moving, pedalling bicycle parts.
But what use would a new piece for ukulele be if it did not encompass the heart of the uke: its spirit of community and inclusiveness? Fortunately, Durrant has given this aspect central importance; yes, he does gets to show us the full range of his virtuosity on this little wooden box but he also, rather ingeniously, manages to capture the instrument's more familiar personality.
Ukulele groups from schools, classes, pubs, or those of us who simply like to perform in our own living rooms can attend a short series of Durrant workshops, culminating in a rehearsal with the orchestra on the day of the 'Big Gig'. In this way Durrant integrates both the orchestral musician and the community musician under one roof, whilst highlighting the sheer power of the ukulele both musically and socially.
If the Richard Durrant Orchestra comes to your town then you can join them and help spread the message: the ukulele has arrived in concert halls across the land.
'Ukulele players of the world unite!" – "The Ukulele needs you!!".
(taken from a short article by Gary Cunningham)
Find more details about the amazing, individual musicians below…
Groove 1: Composer/Director/Ukulele/Guitar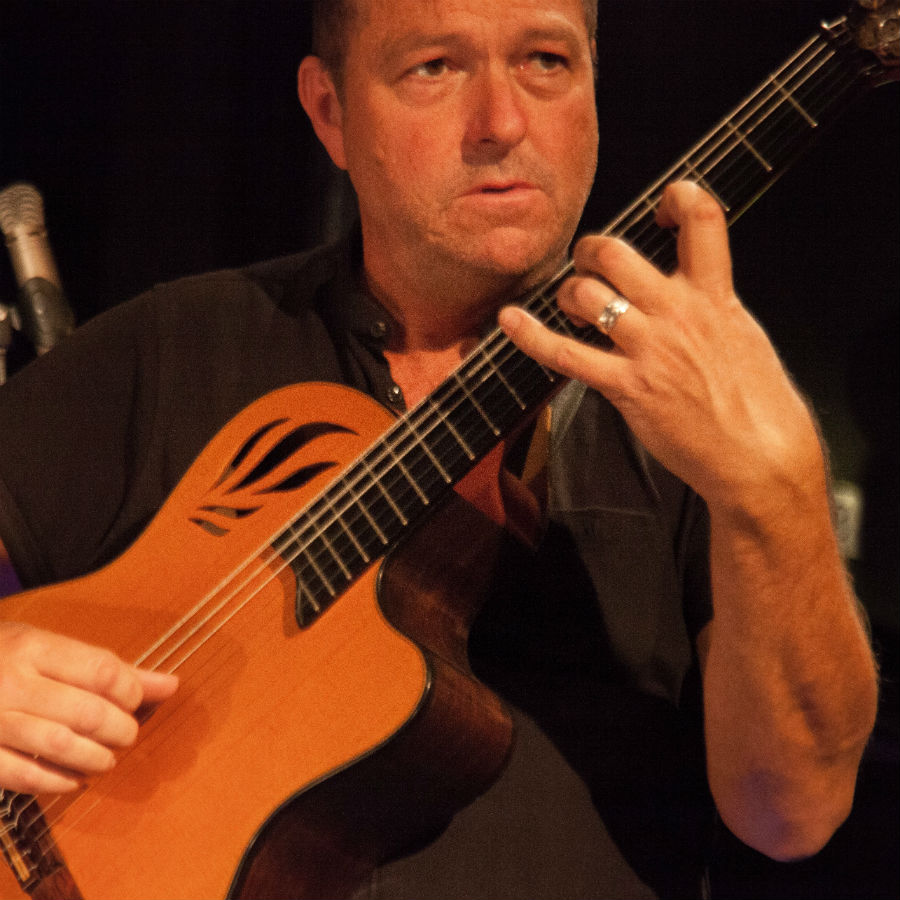 Richard Durrant – this multi-instrumentalist, entertainer and barefoot minstrel is a true maverick, and one of the most imaginative guitarists of his generation. He has performed as soloist in major concert halls, tiny English villages and the wilds of South America. His playing is richly romantic, truly virtuosic and crosses all musical boundaries. Richard is also a passionate supporter of community arts projects.
Groove 2: Percussion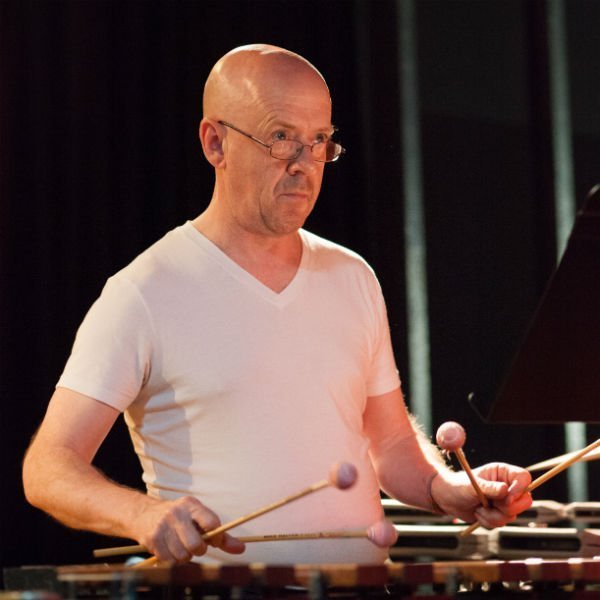 Chris Brannick – is a contemporary percussion specialist and is a founder member of internationally renowned percussion iconoclasts ensemblebash. Chris is also a highly regarded singer, actor and writer. Brannick defies categorisation and belongs perfectly in the RDO orchestra playing vibraphone, marimba and other percussion instruments.
Stephen Hiscock -  is also a founder member of  ensemblebash  and has worked with Stewart Copeland, Steve Reich, Sir Harrison Birtwistle, Nitin Sawhney and Django Bates amongst others. In the orchestra he plays kit, bicyclatter, waterphone, berimbau and other assorted percussion.
Groove 3: Keyboards/Piano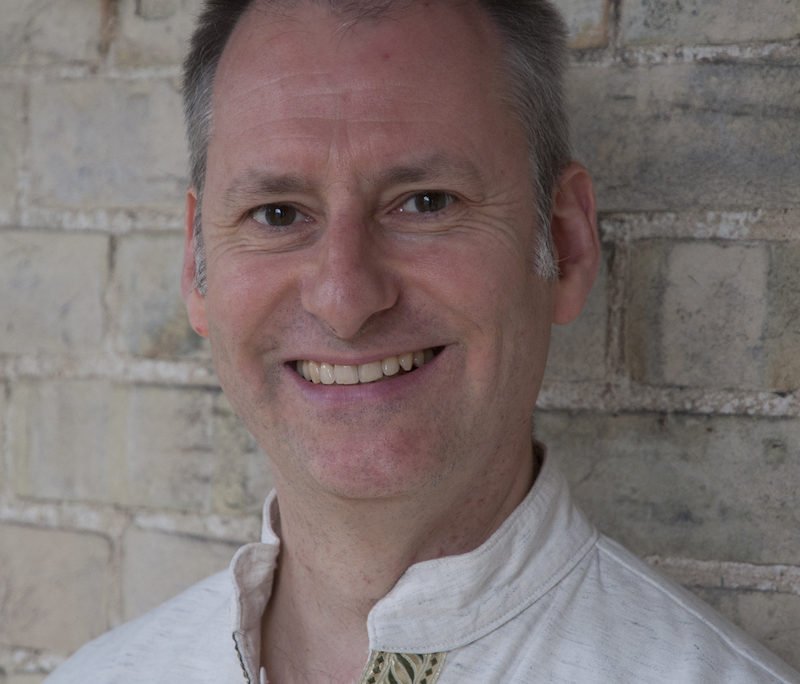 Howard Beach – has spent 30 years working with international orchestras, chamber ensembles, solo instrumentalists and singers including Les Arts Florissants, The London Mozart Players, the BBC Singers, Bryn Terfel, Sarah Leonard, Krzyzstof Smietana and Piers Adams.  Beach has toured extensively in the USA Canada, Europe, most notably with the baroque quartet "Red Priest" who were the subject of the South Bank Show in its final series.
Groove 4: Bass
Gareth Huw Davies - has performed all over the world, but mainly plays in concert halls, theatres & jazz venues in the UK, from Ronnie Scotts to the Latitude Festival, the Barbican and Canterbury Cathedral.
Recent work includes sessions for Simple Minds, Chrissie Hynde, Graham Coxon, Charlie Dore and Sam Swallow. In the RDO he plays both double bass and electric bass guitar.
Groove 5: Strings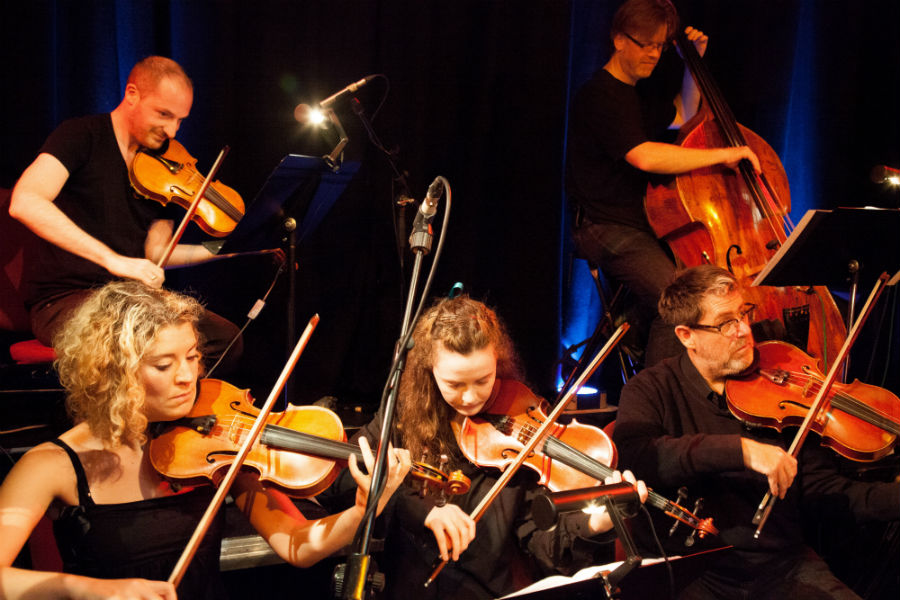 Richard has chosen his string section from players with close links to Brighton and Sussex. Many of the players have a connection with the Brighton Youth Orchestra with whom Richard also played as a teenager (he is now an Ambassador for the BYO).  The strings are led by Christian Roberts-Lewis.
Groove 6: The Community Ukuleles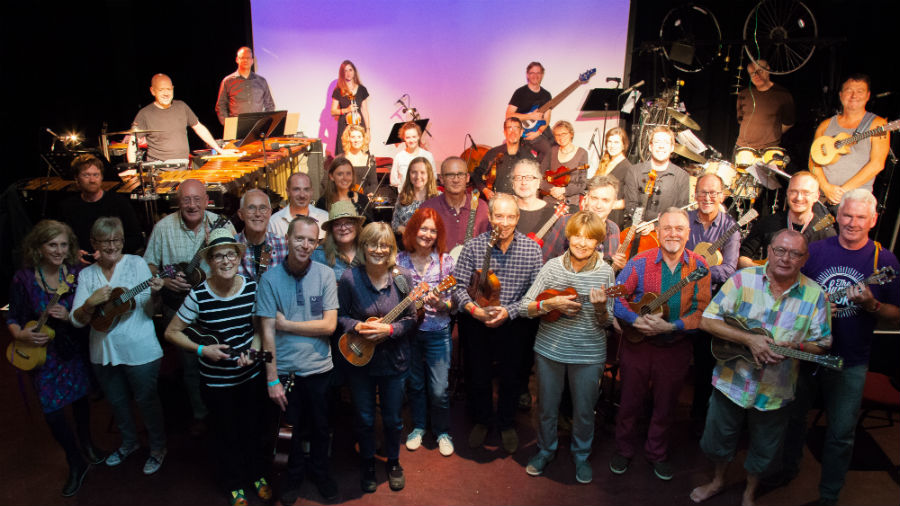 This could be you! Working in harmony with the RDO. We invite all ukuleleists to join a performance of Six Grooves to help connect the ukulele and the orchestra. We know that you'll find your own groove and your own individual sound on the ukulele through this collective musical process.
"A game changer for the ukulele"
"A musical triumph full of surprises."
"Six Grooves for Ukulele is the most stunning piece of live music. I won't forget it in a hurry."