In the run up to two shows, The Number 26 Bus to Paraguay on 3 and 4 March, Richard Durrant continues the story of his Paraguayan adventures and his exploration of the music of Barrios…
Richard's first trip to Paraguay was centred around the launch of The Number 26 Bus to Paraguay. The tour included a concert in the Teatro Municipal, Asuncion where Barrios himself had played many years previously. At one point during the concert, the performance was stopped to welcome Richard as an 'Esteemed Visitor' to the capital city.
The certificate still hangs on the studio wall. Amongst so many wonderful and unexpected events there was a lovely stand out moment for Richard.
"After playing at a Barrios conference in the Hotel del Lago (pictured above) – a favourite haunt of Barrios – I was introduced to none other than Richard Stover who, years earlier had painstakingly transcribed and published most of Barrios' solos."

Says Richard
As a student, Richard would save up to buy these books as they came out. During their meeting in Paraguay, 'Rico' and he got on splendidly and stayed in touch afterwards.
Sadly, Richard Stover passed away in 2019 at the age of 74. He was an important figure in the Barrios story and is much missed. 
Shortly after Richard Durrant's concert Richard Stover wrote the following:
Extremely musical and expressive, with virtuosity to spare. I am speaking of Richard Durrant, English guitarist who recently visited Paraguay. The public acclaimed him not only because he presented an all-Barrios program (which he played superlatively), but also because of his passion and tenderness, qualities that he communicates through his magnificent playing of the classic guitar.

Durrant is a musician of depth who can play a variety of musical styles, from the Concierto de Aranjuez with the Royal Philharmonic, to popular music and jazz. Here is a mature musician of extraordinary technical prowess.  
Richard Stover
Barrios biographer and ethnomusicologist (Caacupé, 2011)
Later came The Girl at the Airport album.Richard wrote the title track to celebrate the romance of touring abroad.
If you have a Spotify account you can listen to the music.
For this final album in the trilogy Richard wrote the title track The Girl at the Airport for guitar and string orchestra.
"I imagined flying out of Shoreham Airport bound for Paraguay aboard a white Dakota clutching my guitar case and a bundle of manuscripts. I'd stepped out of a Graham Greene novel and I could hear that string section behind my guitar long before I booked the orchestra. All I had to do was write it down."

Says Richard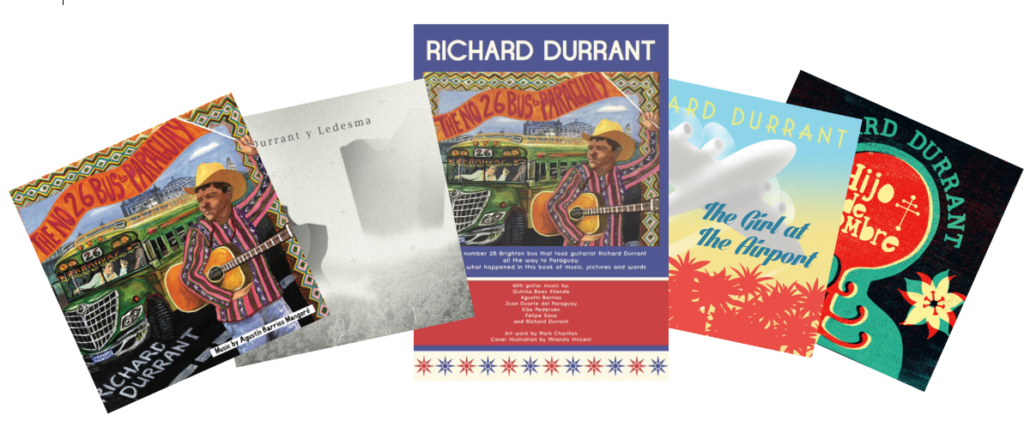 https://www.richarddurrant.com/wp-content/uploads/2023/02/unnamed-2.png
712
1200
admin
http://richarddurrant.com/wp-content/uploads/2016/06/rd1.png
admin
2023-02-23 17:51:22
2023-02-23 17:53:18
Our Man in Asuncion