Richard Durrant and Ismael Ledesma have launched their eagerly awaited album Durrant y Ledesma. This album of guitar and harp music is a stunning collection of originals for guitar and harp written by both musicians; full of Paraguayan passion and rhythms teamed with European melodies.
It was the sheer joy of playing and the success of their performances that led these two leading soloists to record their first duo album: Durrant y Ledesma
But don't just take our word for it! CLICK HERE to listen to this amazing sample track: La Balada del Indio.
Richard met Ismael in London when he was performing at the Bolivar Hall for the Ambassador of Paraguay.  Their first concert tour together came some months later in October 2016.  This whistle-stop, six date UK adventure began just one day after they played together for the very first time.  The audience reaction was incredible and it quickly became clear that producing an album was a must!
Ismael Ledesma is a cultural ambassador for Paraguay although he has based himself in France for thirty years.  He was invited to France by his uncle Kike Lucena after he finished school. He then joined the Paris circle of Latin American musicians whilst studying at the Paris Music Conservatoire. Ismael is now a successful international soloist.
English guitarist and composer Richard Durrant is no stranger to South America. During his first visit to Paraguay he was honoured as an 'Esteemed Visitor' to the capitol city,  Asuncion. He has appeared twice as soloist with the national orchestra, released a successful trilogy of Paraguayan albums and published a book of stories and music 'The Number 26 Bus to Paraguay' which catalogues his adventures and introduces guitarists to the new music he has uncovered over recent years.
Richard and Ismael will be performing together in Asuncion, Paraguay this April to mark Ismael's 35th Anniversary tour.  In June they'll be undertaking a short UK tour featuring music from their new album.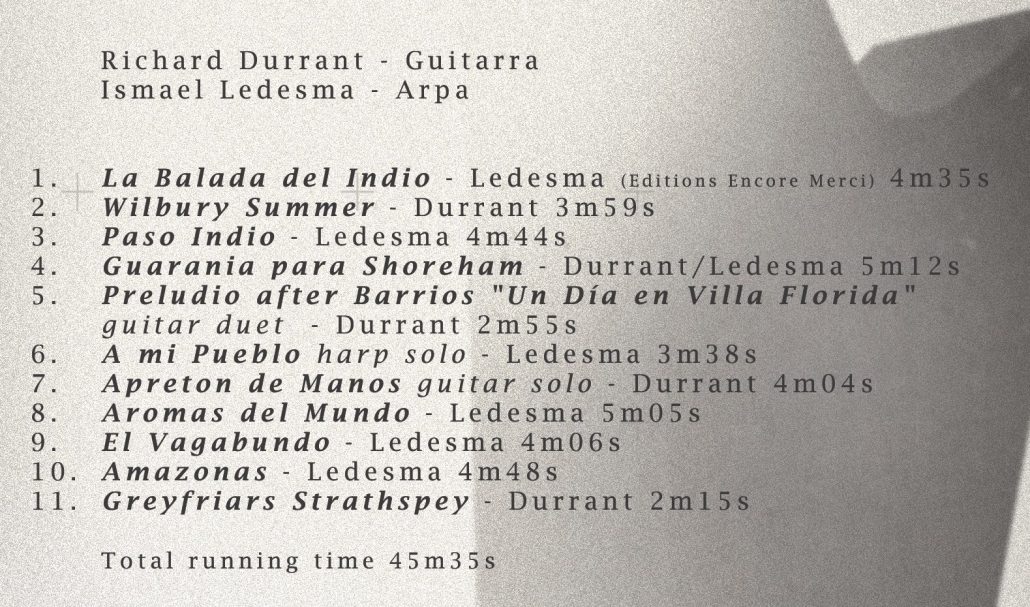 Durrant y Ledesma is released through Proper music Distribution. Catalogue No: TBD 002CD
The recording is now available online as mp3 files as well as studio mastering quality 96-24 files in FLAC or ALAC album zip format – only available from  www.richarddurrant.com
https://www.richarddurrant.com/wp-content/uploads/2017/03/DurrantYLedesmaBox-e1490439719310.jpg
685
990
admin
http://richarddurrant.com/wp-content/uploads/2016/06/rd1.png
admin
2017-03-25 07:00:03
2017-03-25 12:02:19
New Album Release Online