Even three days of relentless winds plus numbed hands has failed to prevent Richard Durrant from appearing on stage on time. Follow the story of his amazing Music for Midsummer journey…
---
Under Cumbrian Skies
"My Aurelius tour bike with its troublesome truck is actually a slick, well planned machine; carefully trimmed and perfectly packed it will munch up the miles. From Orkney to Edinburgh I was able to average 11mph which, with the load I'm carrying, is fairly respectable."

Says Richard
But then things took a turn for the worse: For three unforgettable days, the wind changed everything. Pedalling to go down a hill as well as up made even 7mph a struggle. Ride times increased and Richard started to feel felt battered and tired.
More seriously, this began to take its toll on his hands: Onstage in Cumbria his left hand 3rd and 4th finger were without feeling and 'disobeying orders'. The same happened in Lancaster Priory with some of the bigger guitar pieces requiring a super human effort. 
---
Under Yorkshire Skies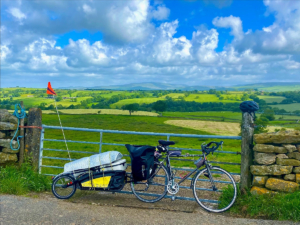 Sunday was a better day but Richard's wife, Louise and his good friend Gary Southwell – the famous luthier and creator of the bog oak guitar – had different ideas.
"Ultimately Gary found me on the A65 halfway between Lancaster and York and talked me and the bicycle into the back of his Land Rover. I was delivered to NCEM York and told to take a deep breath, have a cup of tea and get my hands working again."

Explains Richard
Fortunately, Richard obeyed orders from his loved ones so was able to work on reviving his hands.
It turned out to be the most wonderful gig imaginable with a big crowd, friends old and new, and a surprise chance to play an encore on a rare Gary Southwell, bog oak, steel strung guitar (pictured).
---
Towards Southern Skies
Now the tour continues its journey South toward Midsummer including performances at The Stables Milton Keynes, Yvonne Arnuad Theatre Guildford, Brighton Open Air Theatre (pictured) and Trinity Theatre, Tunbridge Wells.
And don't forget that the immersive audio 'Binaural Headphone Mix' of The Sleep of a King goes live on all streaming platforms from sunrise on the Summer Solstice (21 June).
https://www.richarddurrant.com/wp-content/uploads/2022/06/unnamed-2-1-e1655718139136.jpg
630
1200
admin
http://richarddurrant.com/wp-content/uploads/2016/06/rd1.png
admin
2022-06-20 09:34:09
2022-06-20 09:42:32
Week 2 on the Road