Richard Durrant's Christmas Guitars
Richard is half way through his Christmas tour and if you've been following his live Facebook posts it has been going down a real treat. Most venues have been sold out and the audience feedback has been warm, enthusiastic and just fabulous wherever they have appeared:
"Truly incredible and beautiful. The most beautiful guitar playing I've ever heard"
Saan White – Sayers Common Church

"Brilliant concert last night. We'd never seen any of you before but you were individually superb, and collectively sublime."
Chris Smith – Theatre Clwyd

"You were all fantastic at Cobham last week – thank you"
Katherine Gatehouse – Cobham
Meanwhile, we've been delving into Richards new online shop and have found the perfect Christmas gift with Richard Durrant's Christmas Guitars – his 14 track kaleidoscopic vision of what Christmas means to this most gifted and eclectic acoustic musician.
Available as a physical CD, full album download, or – for the real connoisseurs, a FLAC full album download. Have a listen to one of the tracks here in Mark Charlton's film with Barry Cartledge's photography of northern English, winter landscapes:
With Amy Kakoura's vocals, contributions from a school choir as well as Richard's own young children, the UK guitar maestro allies his revered technique to everything he can lay his hands on in his studio: Hammond, harpsichord, piano, cello, mandolins, ukulele and recorders are heard alongside Durrant's guitars. And just when you think the Christmas mix cannot get any richer, up pops the gravelly voice of comedy legend Barry Cryer on 'The Polar Bear' – inspired by the well-documented plight of the bears in their changing Arctic environment.
Track listings
1. Winter Danza
2. Emmanuel Gloria
3. Past Three O'Clock
4. Joululaulu
5. A Christmas Eve Lullaby
6. The Secret Dance Of The Pets
7. An Acoustic Winter Solstice
8. All The Animals
9. A Northern Winter Night
10. Because Of Christmas Day
11. A Christmas Wish
12. The Polar Bear (Bear; Cubs: Ice January; The Swim; Artic Sky)
13. This World Needs To Sing
14. A Christmas Eve Lullaby (Coda)

Other tracks include the pared-back poignancy of Finnish song 'Joululaulu' and Phil Jewson's 'Because of Christmas Day' – written for Durrant and showcasing him in his element – gorgeous, solo guitar with nothing added. Anchoring the whole album is Durrant's masterly tone poem 'An Acoustic Winter Solstice', full of icy wonder and otherworldliness.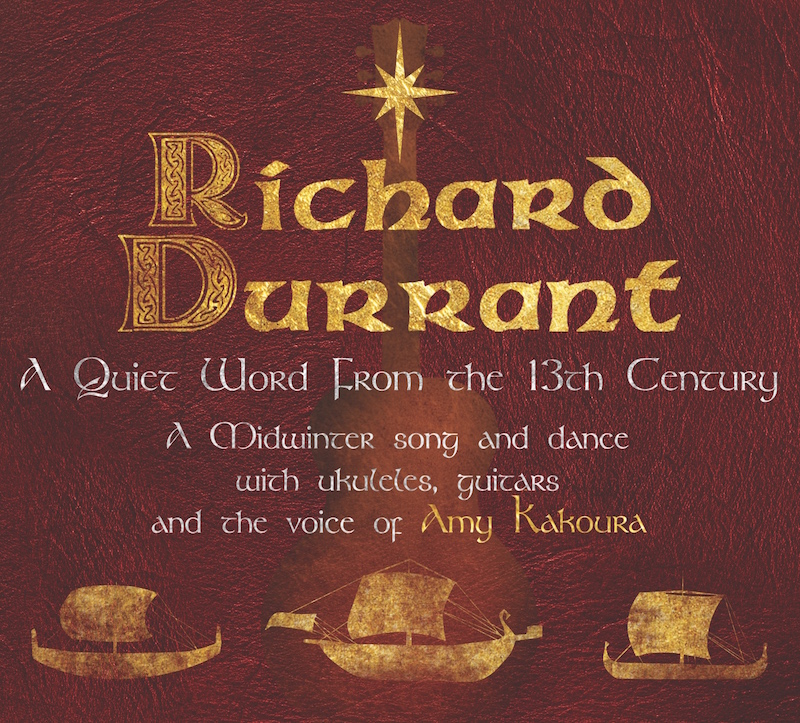 And don't forget Richard's other great Christmas stocking filler is A QUIET WORD FROM THE 13TH CENTURY. Also available as a physical CD, full MP3 album download and FLAC full album download,  this Christmas album features the voice of Amy Kakoura in some seasonal favourites both medieval and new including I Saw Three Ships, O Little Town of Bethlehem and Personent Hodie.
https://www.richarddurrant.com/wp-content/uploads/2016/12/Trio.png
218
382
admin
http://richarddurrant.com/wp-content/uploads/2016/06/rd1.png
admin
2016-12-17 07:00:07
2018-05-09 21:34:02
Richard Durrant's Christmas Guitars