This month marks the 20th Anniversary relaunch of the children's  album Unleashed on British Isles by Paul Kelly and Richard Durrant…
Unleashed is a collection of British Isles folk songs for children of all ages. The recordings are colourful, vivid – almost cinematic with acoustic instruments, home spun sound effects and layers of rich vocals enriching the stories in such classic songs as My Bonny, Widdecombe Faire, The Gypsy Rover and The Golden Vanity.
On May 1st their version of Drunken Sailor will appear on all streaming platforms, followed by two other tracks from the album. The entire production will then be available for all to enjoy – children and adults alike!
'I immediately knew that Paul had something special and his involvement with children's music particularly chimed with me. With my three young children running around and a fourth on the way I felt that Paul and I could create something special that would celebrate these happy, adventurous times.'

Says Richard
American born Paul Kelly has mixed a career as an international opera singer and a children's music composer and producer. He initially approached Richard to appear on one of his recordings. They became friends and ended up writing and recording two albums together.
'Recording Unleashed on British Isles with Richard was, and still is, one of the high points in my musical life. It's right up there with performing at La Scala, and a hell of a lot more fun.'

Says Paul Kelly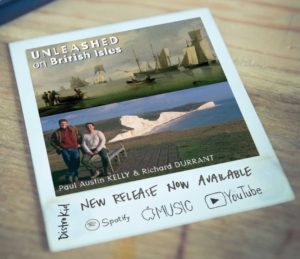 Drunken Sailor is now live on iTunes and Amazon and available on all streaming platforms including Spotify.
Did you know?
Throughout the 1990's and into the early 2000's Richard was very involved with children's music…
Remember Watch?
This led to several years as a writer for both Watch and its sister programme Numbertime. His many songs were heard by a generation of children – including his own!
Richard's first encounter with BBC Schools Television came in 1994 as guest presenter on the long running series Watch. 
Remember Metalheads?
This 26 episode cartoon series was made by Telemagination and screened on CBBC from 2003.
Richard composed the music for the series with fellow musician Richard Attree  from the BBC Radiophonic Workshop. Both the Richard's had studied at the Royal College of Music but only met when Richard Attree moved to Shoreham Beach.
https://www.richarddurrant.com/wp-content/uploads/2023/04/unnamed-5.jpg
893
900
admin
http://richarddurrant.com/wp-content/uploads/2016/06/rd1.png
admin
2023-04-30 12:21:21
2023-04-30 12:43:50
Unleashed on British Isles